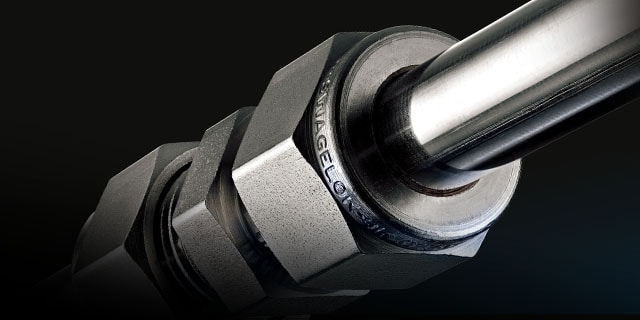 THE BIG DIFFERENCE
It's not uncommon to hear that other fitting brands are interchangeable or are similar to a Swagelok fitting, but there are some very important differences that have a direct impact on the performance.
So what sets Swagelok apart?
Our elevated chromium and nickel level in Swagelok fittings, plus the unique low temperature carburization process (SAT12®) used to make our ferrules, together with our strict controlled manufacturing process, make our 316SS Fittings in combination with 6MO Tubing superior in the market.
SWAGELOK'S SPECIAL RECIPE FOR 316 STAINLESS STEEL
A proprietary stainless-steel formula, which cannot be purchased by anyone else.
Elevated chromium and nickel levels in Swagelok fittings (Cr 17,5%, Ni 12,2%).
Provides higher resistance to pitting corrosion.
Provides superior chloride stress corrosion cracking resistance.
SWAGELOK'S UNIQUE SAT12® PROCESS
SAT12® is Swagelok's unique low-temperature carburization process achieves a phenomenal tool-steel-like hardness and strength in the back ferrule, and gives unique benefits:
A better grip-type design that uses a unique "hinging and collecting" action to achieve optimal performance.
Superior Tube grip
A much better gas seal
Vibration resistance
MANUFACTURING
Swagelok owns the manufacturing process from start to finish so we can control the maximum number of variables, ensuring product quality.
Swagelok performs continuous, rigorous testing on thousands of samples of production tube fittings to ensure only highly reliable components.

Traceability at all phases is an integral part of our overall quality system.

Our Limited Lifetime Warranty is a promise as strong as our products.