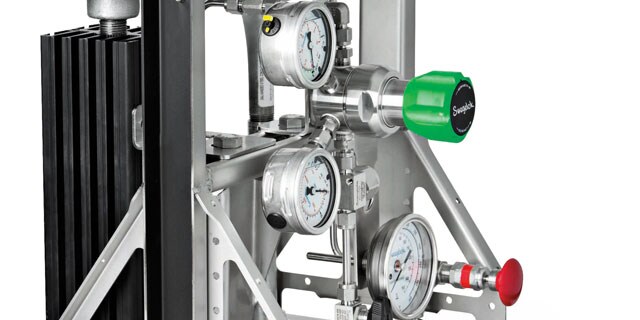 Pre-engineered and fully assembled fluid sampling and control subsystems bring efficiency and consistency to your operations. Use Swagelok® pre-engineered subsystems (PrESS) to deploy fully documented fluid sampling and control systems without the worry of acquiring and assembling multiple parts.
For use in all types of plants and facilities where liquids and gases are processed, our proven subassemblies minimize system footprints, simplify system design, and promote representative samples and accurate analytical results.
REQUEST MORE INFORMATION ABOUT SWAGELOK ASSEMBLIES
LEARN ABOUT OUR SAMPLING SYSTEMS TRAINING
Calibration and Switching Module
The Swagelok® calibration and switching module (CSM) provides a discrete switch between multiple process samples and conditions and selects process streams for analysis. The CSM pre-conditions the sample by ensuring samples are inserted into the analyzer at the appropriate pressure, temperature, flow, and filtration levels. Integrated flow loop design ensures consistent delivery times to the analyzer across all streams and eliminates any deadlegs or chance for cross-stream contamination.
Built on the Swagelok® modular platform component (MPC) platform, the CSM utilizes the Swagelok® stream selector valve (SSV), allowing the user to select the configuration required for the specific system. The CSM accepts up to ten process and two calibration fluids, either all liquid or all gas. A manual calibration option allows the operator to calibrate the analyzer at any time.
VIEW CALIBRATION AND SWITCHING MODULE CATALOG
Fast Loop Module
The Swagelok® fast loop module (FLM) is designed to handle high flows and long transport lines from tap to analyzer to reduce time delays for online analyzer systems. The FLM easily isolates the sample system while introducing a purge gas for system cleaning, and it extracts a sample through a filter while using the high flow rate to keep the filter element clean. The FLM minimizes pressure drop for quick response times.
Field Station Module
The Swagelok® field station module (FSM) transports a preconditioned, reduced-pressure process gas to an analyzer. Preconditioning a gas sample at the extraction point and transporting the sample at low pressure results in faster analyzer response time, less condensation, and less environmental impact. The FSM mounts directly to process nozzles and is highly configurable to match process conditions.
VIEW FIELD STATION MODULE CATALOG
Fluid Distribution Header
Swagelok® fluid distribution headers (FDH) are used as a versatile manifolds in a variety of gas and liquid applications, providing a flow path with multiple outlets, similar to a large branch fitting. With an inlet on one end, a drain on the other end, and multiple outlets on either side, the FDH uses Swagelok® components for enhanced reliability. The unique body design with solidly mounted components eliminates twisting. Easily connect multiple FDHs inline to create longer lengths.
VIEW FLUID DISTRIBUTION HEADER CATALOG
Sample Probe Module
Swagelok® sample probe modules (SPM) measure the concentration of key components in gas and liquid streams to maintain precise process control. Using sample probes in conjunction with sample probe valves can improve safety as well as sample purity and timeliness. Probe interlocks protect equipment. Valve interlocks improve safety of operation.
The Swagelok SPM provides a pre-engineered solution for use in online process analyzers. The SPM consists of a welded sample probe (SPW) or retractable sample probe (SPR) and a block-and bleed sample probe valve (SPV).
VIEW SAMPLE PROBE MODULE CATALOG
REQUEST MORE INFORMATION ABOUT SWAGELOK ASSEMBLIES
Safe Product Selection: The complete catalog contents must be reviewed to ensure that the system designer and user make a safe product selection. When selecting products, the total system design must be considered to ensure safe, trouble-free performance. Function, material compatibility, adequate ratings, proper installation, operation, and maintenance are the responsibilities of the system designer and user.

⚠ Warning: Do not mix/interchange Swagelok products or components not governed by industrial design standards, including Swagelok tube fitting end connections, with those of other manufacturers.