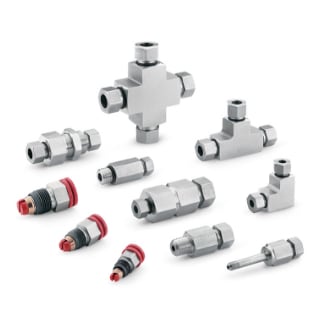 This course is designed to give participants a better understanding of the increased safety requirements as well as the unique advantages of the FK series fitting in systems build for pressures up to 1100 bar. This course goes well hand-in-hand with our Medium/High Pressure Cone & Thread training as those connections are commonly found in the same type of system.
contact our training manager to book a course for your team
Who Should Attend
To achieve consistent quality management, all relevant personnel should be trained including but not limited to
Designers

Supervisors

Assemblers

Technicians

Operators

Purchasers
Course Goals
Upon completion of this course, partipants will be able to
Identify potential hazards when working with high pressure
Recognize the advantages and characteristics of the FK series
Assemble FK series fittings
Inspect and troubleshoot installations
Understand standards, pressure classes, and proper handling
Duration
08:30 - 16:00
Maximum Class Size
12
Location
At our locations in Porsgrunn or Stavanger, or at your location.
This course is not available in virtual format due to the practical component.
Language
Primarily Norwegian, but this course can be held in English upon request.
For further details on our courses and information on how we can customize training to your requirements please contact our training manager, Anne Bjerga Frafjord at +47 463 14 323.